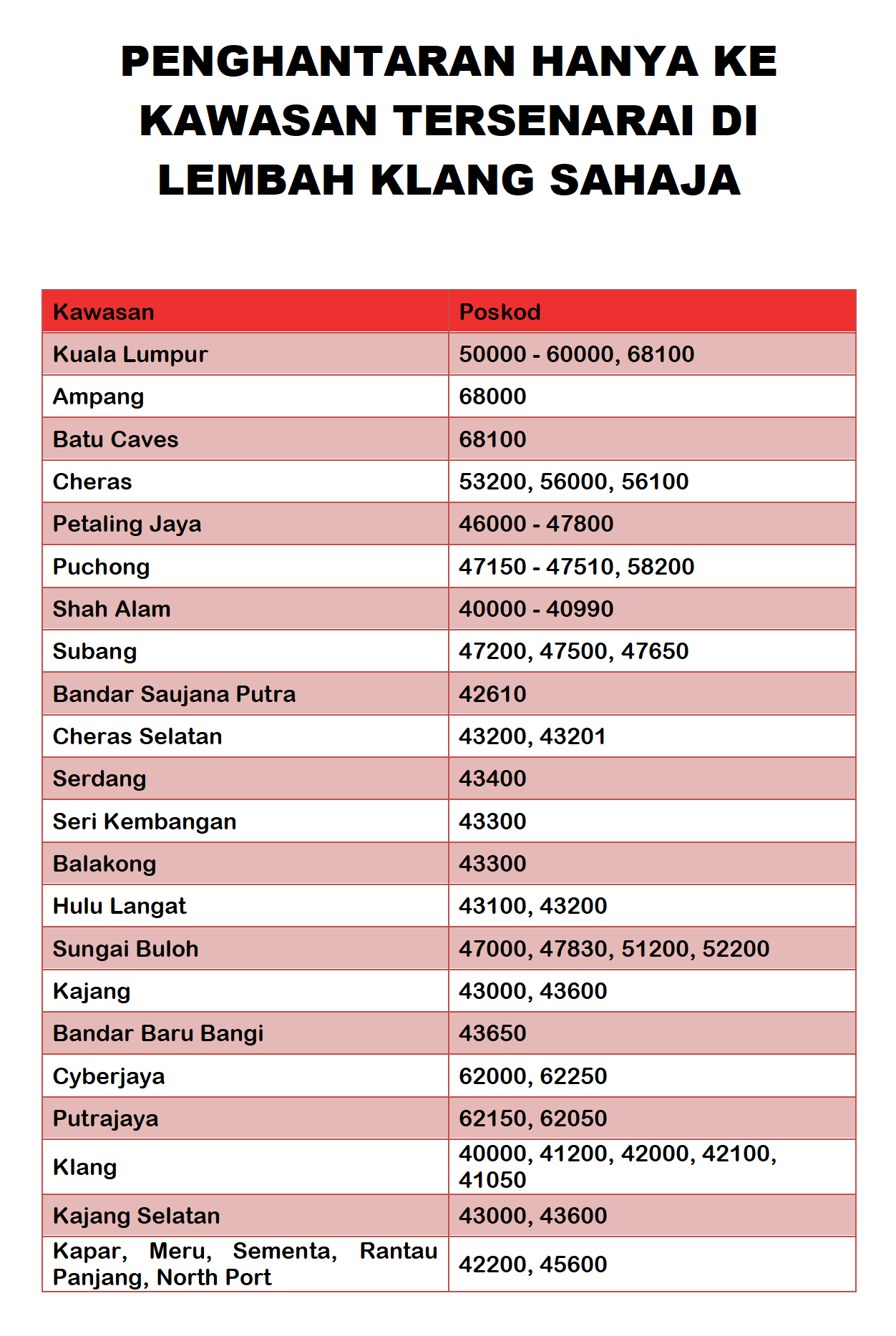 POLISI PENGHANTARAN
Jika pesanan telah dibuat selepas pukul 5 petang, pesanan akan dikira sebagai penghantaran esok hari bermula pada pukul 9 pagi.
Jika pesanan telah dibuat pada hari Jumaat selepas pukul 5 petang, pesanan akan dibawa ke hari Isnin yang berikutnya sekiranya hari tersebut bukan cuti umum.
Selepas kami menerima pesanan pelanggan, kami akan mula menyediakan produk tersebut. Kami akan meluluskan pesanan selepas kurier kami mengambil bungkusan dan e-mel akan dihantar ke peti masuk pelanggan menyatakan bahawa produk tersebut di dalam proses penghantaran.
Kami akan cuba membuat penghantaran ke alamat yang diberi oleh pelanggan di halaman pembayaran. Jika penghantaran gagal dilakukan, kami akan menghantar e-mel atau hubungi pelanggan tersebut untuk memaklumkan waktu penghantaran untuk membuat peghantaran kedua.
Jika;
a) Penghantaran tidak selesai dalam masa 2 jam selepas pelanggan menerima e-mel penghantaran
b) Produk tersebut rosak / keadaan teruk / hilang
c) Produk diterima lain daripada yang diminta
Pelanggan tersebut layak untuk memohon bayaran balik dan boleh menghubungi talian kami di halaman kedai
DELIVERY POLICY
If an order was made after 5 pm, it will be considered as next-day delivery starting from 9 am.
If an order was made on Friday after 5 pm, it will be carried over to next Monday assuming that day is not a public holiday.
After we received the order, we will start packing the requested product. We will approve the order after our courier picks up the package and an e-mail will be sent to the customer's inbox stating that the product is in delivery.
We will attempt delivery at the delivery address previously stated by the customer in the checkout page. If there is a failed attempt, we will send another e-mail or contact the buyer to inform a delivery time to make the second delivery attempt.
If;
a) The delivery was not made within 2 hours after the customer receive a delivery e-mail
b) The product is damaged / bad condition / missing
c) Product received is different from originally requested
The customer is eligible to request a refund and may contact our helpline from the online store